Happy Hump Day!!!  Hope your week is going well so far!  Can you believe it's WIAW again!?! I feel like I just worked on last week's WIAW post!  Well, at least it's my favorite time of the week!
Trying new recipes is literally one of the my favorite things to do, so I'm always on the hunt for new ones.  Over the past several weeks, I've found and tried some fabulous recipes from various different bloggers.  So today, I want to give those bloggers a shout out and share some of those exciting, delicious and healthy recipes with you.  As always, thanks to Jenn for hosting!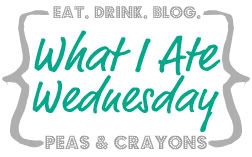 First up, Amy's Coconut Banana Pancakes.  Can I just say…WOW! They only require a few ingredients, are super simple to make and taste delicious. I topped mine off with Peanut Butter & Co. Dark Chocolate PB and half a banana.
Lately, I've been making a lot of pancakes or smoothies for breakfast, but sometimes it's nice to mix it up a bit, so when I discovered Amanda's Pumpkin Pie Breakfast Bake, I was pretty excited.  It was super moist and surprisingly quite filling. It was kind of like eating pumpkin pie, but not!

 Again, I topped it off with some chocolate PB. So yummy! 
As soon as I saw Alexis' recipe for Broccoli Cheddar Quinoa Pie, I knew I had to make it right away. In fact, she posted in on a Thursday, I bought all the ingredients for it on Saturday and made it on Monday. Adding the quinoa was such a different concept, but I absolutely loved it!
If you haven't tried Averie's Roasted Carrot and Red Pepper Peanut Soup, you must!  Such a different and amazing combination of flavors. It's super thick and super filling. One bowl of that soup and I was good to go for the rest of the night.
I'm usually not a fan of cauliflower, but sometimes I feel like we eat the same veggie sides over and over again so when I found this recipe for Oven Roasted Cauliflower, I was pretty excited to give it a try.  Well, I was certainly not at all disappointed! Roasting it gave it a whole different flavor that I loved!  Unfortunately, when I was putting the leftovers away, I dropped the bowl on the floor.  Yup…glass and cauliflower everywhere! :-( Guess I'll just need to make it again !
When Justin's parents' came over for dinner on Saturday, I wanted to make an appetizers, so I decided on Alysia's Black Bean Dip with Feta.  Oh my goodness was this stuff delicious! Justin, my mother-in-law and I pretty much devoured it in no time! I told my mom about it and she wants me to make it for her this weekend, and I can't wait to eat it again.  Yum, yum, yum!
And last but not least, Lee's Pumpkin Maple Roasted Almonds. Again, they took minutes to prepared, and turned out to be a perfect and tasty little snack!  
What blogger recipes have you tried lately (links encouraged)?
Any new recipes I should try?
Favorite roasted vegetable?
Favorite snack?